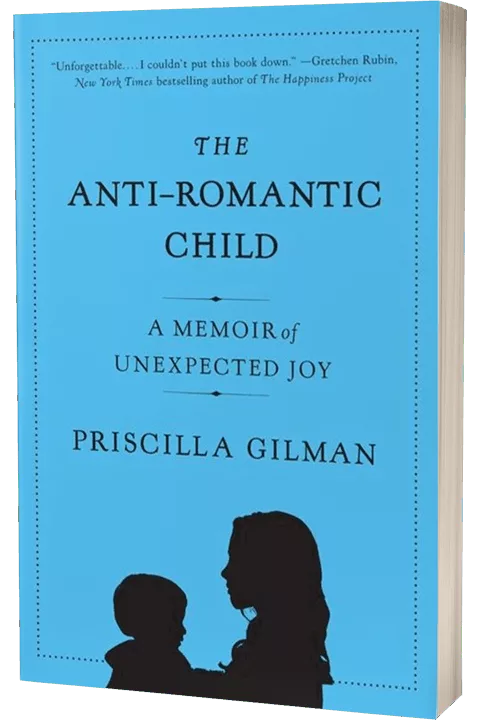 "Rapturously beautiful and deeply moving, profound and marvelous"

— Andrew Solomon, author of The Noonday Demon and Far From the Tree
Order Today
The Anti-Romantic Child
A MEMOIR of UNEXPECTED JOY
Priscilla Gilman, a teacher of romantic poetry who embraced Wordsworth's vision of childhood's spontaneous wonder, eagerly anticipated the birth of her first child, certain that he would come ​"trailing clouds of glory." But as Benjamin grew, his remarkable precocity was associated with a developmental disorder that would dramatically alter the course of Priscilla's dreams.
In The Anti-Romantic Child, a memoir full of lyricism and light, Gilman explores our hopes and expectations for our children, our families, and ourselves — and the ways in which experience may lead us to re-imagine them. Using literature as a touchstone, Gilman reveals her journey through crisis to joy, illuminating the flourishing of life that occurs when we embrace the unexpected. The Anti-Romantic Child is a profoundly moving and compellingly universal book about family, parenthood, and love.
The Anti-Romantic Child, Gilman's first book, was excerpted in Newsweek magazine and featured on the cover of its international edition in April 2011. It was an NPR Morning Edition Must-Read, Slate​'s Book of the Week, selected as one the Best Books of 2011 by the Leonard Lopate Show, and chosen as a Best Book of 2011 by The Chicago Tribune. The Anti-Romantic Child was one of five nominees for a Books for a Better Life Award for Best First Book.

Praise for The Anti-Romantic Child
"Priscilla Gilman's lyrical narrative is profoundly moving and ultimately joyous. It eloquently touches the universal."

— Harold Bloom
"THE ANTI-ROMANTIC CHILD is remarkable. This haunting and lyrical memoir will be an invaluable and heartening guide to all who find themselves in similar situations and indeed anyone confronting an unforeseen challenge."

— Marie Brenner, writer at large for Vanity Fair and author of Apples and Oranges
"A riveting and original book about love."

— Ann Beattie
"What a glorious book Priscilla Gilman has written. Lively, eloquent, straightforward, and insightful, THE ANTI-ROMANTIC CHILD deftly delineates and negotiates the complex cross-currents of a life of the mind and a life of the heart."

— Sandra Boynton, children's book author and illustrator
"A lovely, thoughtful memoir."

— The Boston Globe
"Every parent should read this luminous book to absorb or absorb again the truth that every child is a surprise — a revelation — to be uniquely learned and understood as well as loved."

— Mary Catherine Bateson
"This is a fascinating, tender, illuminating book about an extraordinary boy and his equally extraordinary mother. Their story will remind you that our fantasies about the way life should operate are both infinitely simpler than the complexities of the real world, and infinitely less beautiful. A wonderful read."

— Martha Beck, author of Expecting Adam
"I couldn't put this book down."

— Gretchen Rubin, bestselling author of The Happiness Project
"A striking celebration of the bond between a mother and son."

— Kirkus Reviews
"THE ANTI-ROMANTIC CHILD is such a profoundly moving book, I could hardly bear to read it. It is so riveting, I couldn't stop. It is rich, informative and gorgeously written. If you don't love it as much as I did, you must have left your heart in the taxi cab."

—

Andre Gregory

, theatre director, writer, and star of ​

"

My Dinner with Andre"
"[Gilman] explores the complex emotions of parenting and the ideals and illusions that must live alongside the reality. Throughout, she quotes extensively from Wordsworth as she confides her own disappointments and triumphs in the midst of ongoing hope. Gilman is at once lyrical and deeply analytical as she explores the complexities of parenthood and the need to embrace the unforeseen."

— Booklist, (starred review)
"THE ANTI-ROMANTIC CHILD is compellingly universal … a book for all parents … [Gilman's] poignant story of reconciling fantasy with reality is a universal story of parental growth … Her journey as a parent has helped her see what really matters most and as such, her story is a story to inspire us all."

— Ellen Galinsky, president and co-founder of Families and Work Institute and author of Mind in the Making and The Six Stages of Parenting
"THE ANTI-ROMANTIC CHILD is about parental humility… and coming to terms with the child you have as he exists and not as you imagined him in your romantic poetry class … A wonderful book."

— Hanna Rosin, Coffee Talk Endorsement, Slate DoubleX Gabfest
"THE ANTI-ROMANTIC CHILD is beautiful, poetic, and heartfelt. It's more than a mother – child story; it's a journey of self-discovery. It's a book every parent should read."

—

Kathryn Erskine

, bestselling author of

Mockingbird

and winner of the

2010

National Book Award
"A beautifully sinuous and intensely literary celebration of the exceptional, unconventional child… Throughout her narrative Gilman extracts from many of Wordsworth's poems, which comment on innocence and loss and gave Gilman tremendous succor during (her son's) early development, making for both charming and studious reading. Her thoughtful memoir involves the breakup of her marriage, rejection of an academic career, and move to New York City to work in her mother's literary agency as much as it delves lyrically into the rare, complex mind of the unusual child."

— Publishers Weekly, (starred review)
—

MORE

magazine

, ​

"

The Latest Crop of Incredible Memoirs"
"A first-rate writer … courageous and irresistible."

— Barbara Jones, The Progressive Reader
Top non-fiction pick in Suggested Summer Reading by The Sisterhood of the Jewish Daily Forward
"Full of moving moments… [Gilman is] a writer of prodigious gifts … a lovely work. In this memoir, Gilman succeeds wildly at letting us into the family that produced this unique and wonderful boy, Benjy."

— Marie Myung-Ok Lee, Slate's Double X Book Of The Week
"Priscilla Gilman's account of confronting the fact that her beloved child Benjamin is not the child she had dreamed of in romantic fantasies of motherhood is a very moving personal story … I was immensely touched by Priscilla's journey to joyful acceptance."

— Tina Brown, Newsweek
An NPR Morning Edition Must Read
I don't read many first-person books on this subject, despite, or almost certainly as a direct result of, being the father of a disabled child myself … I would like to observe that it's hard to find books in this genre with ideas in them, and that's where The Anti-Romantic Child scores. It's not just about dealing with the tricky hand that the author has been dealt; this is also a book about literature, specifically Wordsworth and the Romantics, and how Gilman's literary heroes (she used to teach them) have both helped and hindered her understanding of what her child is and what she wanted him to be. It's smart, soulful, and involving, and it rang plenty of bells for me.

— Nick Hornby, The Believer
"Tender, smart, and full of wonder, not quite like any book I've ever read on motherhood."

— Michelle Richmond, New York Times Best-Selling author of The Year of Fog and No One You Know
"This is a book for parents of all children, conventional or not, for teachers, & for lovers of literature …a true test of the scope of this memoir's audience can be made by reading the quotes of praise on the jacket –you'd be hard pressed to find another book with advanced praise from both serious academic Harold Bloom & famed children's writer Sandra Boynton. That is the kind of thoughtful & joyous work this is."

— Girl​friend​books​.com
"Gilman's story of letting go her dream of recreating an idealistically remembered childhood to heroically living in a complex real world … struck me with the sort of knock of recognition that sincere and candid writing offers as a great gift to the reader. Knowing the vast stores of patience all mothers must tap to raise their children, reading the ways Gilman helps her son not just cope, but shine, reminded me of the hushed heroism all around us. The Anti-Romantic Child is wrapped in the poems of Wordsworth, whose ​'romantic view of children' she embraced. How she comes to re-understand children, motherhood, and the poet made for memoir woven of elements one would never expect and is grateful for once finished."

— Randy Susan Meyers, author of The Murderers' Daughters
Order The Anti-Romantic Child